Hi everyone
Here you can find clothes for different Sim bodyshapes.
If you're after the standard Maxis size go to Modelesque Girls.
If you want something different check out the other pages.
Click Info to learn more about each bodyshape and how to
make your sims keep their shape in the shower :)
Enjoy!
bubbleeye
Sister site:

Recent news:
April 11, 2009
Three Curvy Everyday outfits that also work as Formals. Get them HERE



Enjoy!
bubbleeye
April 3, 2009



Back again and happy to see you. I was surprised, actually,
to see my stats counter - thanks for bearing with me all this time!
In other news: I'm a mom now to a 10 month-old angel/devil
called Liza, but I hope to be able to update this site about once
a week.
I also want to plug an old friend's gossip/observational humor
blog called Babushka Gossip. (Gena, privet :)
These are two Russian guys living in America (I'm Russian too, in
case you didn't know:)
Okay, now to the downloads:
Today I bring you 5 Curvy outfits based on the genius
Multialpha mesh by Bloom. Find them HERE and HERE.
I fixed the leg clipping problem using body and boot alphas,
so if you decide to skin these meshes check out my alphas.
Enjoy!
bubbleeye
September 28th, 2007
A small update today: some Chubby Teen undies and a Curvy outfit.
I have two great new affiliates:
and

. Go check them out!
Enjoy!
bubbleeye




September 19th, 2007
I'm adding a new page today - Tiny Outerwear
Enjoy!
bubbleeye



August 31st, 2007
Another update this week. Yes, I'm prolific like that :)
Some of you may remember these skins from Insimenator (I made them back in April, actually), but for the rest of you here's Modelesque and Curvy Outerwear based on Warlokk's fabulous meshes.
Enjoy!
bubbleeye



August 29th, 2007
Sorry, guys
Real life's been keeping me busy, hence no updates of late.
Anyway today I bring you some Curvy and Modelesque Formals.
Enjoy!
bubbleeye


April 21st, 2007
Hi, eveyone
I'm back and have I got news for you!
The Three-of-Each project that I thought would be the end of me is finally finished. Now there's at least 3 items of clothing in every category of every adult Bodyshape. Tons of swimsuits, undies, PJs, sportswear and more!
38 files so far and Teen stuff coming soon.
Enjoy!
bubbleeye






March 20th, 2007
Long time no see. Sorry guys, I haven't updated in a while, but that's because I'm working on a huge update right now (40+ files). I'll upload it all in one batch in the next couple of weeks, so please bear with me.
bubbleeye
January 25th, 2007
Six outfits for Chubby Teens and one for Skinny Teens.



Enjoy!
bubbleeye
January 21st, 2007
Seven new Curvy undies based on Pinup meshes.



January 20th, 2007
Warlokk came up with a set of beautiful Pinup meshes and I grabbed them straight away. So here are three new Curvy skins.



Hope you like them. I'm also revamping the screenshot department, playing with hairstyles and makeup and being a lazy spoiled brat in general.
Love, bubbleeye
January 13th 2007
Hi
So I finally decided to sell out a bit and start a standard bodyshape page. I've held out long enough considering how many cool meshes pop up on different sites every day.
Introducing Modelesque Girls page with fabulous meshes by Sera, Chirko and Tiara. Check out my new screenshots! (For custom content links see Credits)
I also fixed the problem with the pink sneakers outfit for Skinny teens. (It finally dawned on me that "petite teens" being top search keywords for this site does not mean everybody is so hot about my skins. Ageing perverts not being my intended demographic I had to rename the page).
Of course, I'll keep making stuff for Different girls (two new bodyshapes to come!)
Love,
bubbleeye
December 27th, 2006
Happy New Year everyone!
Now here's your to-do list:
Visit Happy Arcadia for kooky carnival costumes!
Meet Kimbo (Isn't he cute!)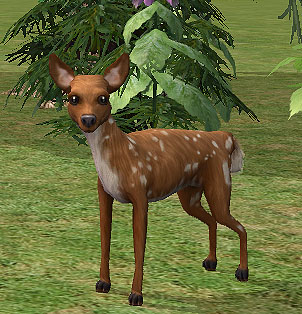 Get Kimbo Sims2Pack (zipped) and find him a nice Sim family
Check out all the new stuff:
3 new pages: Curvy Sportswear, Tiny Swimwear, Athletic Formals
2 Formals and 1 Casual outfit for Curvy Girls, 2 Casual outfits for Athletic Girls,
1 Formal, 2 Casual outfits, a top and a bottom for Chubby Teens, a top for Skinny Teens
Big thanks to Marvine, Grizzelda, Divino, Rose and Biene!
See you in 2007!
Love,
bubbleeye